Fishing Alabama Inshore Waters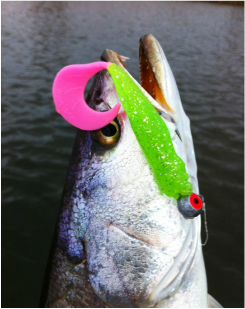 January-March:
Due to the colder water temperatures, speckled Trout fishing in
Mobile Bay
is the best during these months in the many deeper rivers off Mobile Bay. They will hold in the deeper holes of the Spanish River, Tensaw River, Mobile River, Blakely River, and Raft River. Speckled trout fishing in these rivers can be awesome before and after cold fronts.
Speckled Trout in Mobile Bay also call the rivers at the south end of Mobile Bay home such as Fish River, Magnolia River, Bon Secour River, Dog River and Fowl River.
April-August:
These are the months I really get excited about fishing for speckled trout in Mobile Bay. The warmer air temperatures heat up the shallow waters of Mobile Bay and in turn this signals the gamefish such as speckled trout to make their way back out into open waters in search of baitfish. I spend a majority of my time throwing topwater lures early in the morning in search of that anticipated blow up on the lure from hungry speckled trout.
Speckled Trout & Redfish fishing is fantastic in Mobile Bay around Fairhope,
Point Clear
,
Bon Secour
,
Fort Morgan,
Dauphin Island,
and
Orange Beach
. There are many oyster beds, gas rigs, artificial reefs, and other structures in these waters which create many productive spots to fish for Speckled Trout and other gamefish.
With the waters warming up so does the Triple Tail (Blackfish) fishing in Mobile Bay. Mobile Bay and the waters off Dauphin Island and Mississippi Sound harbor the best triple tail fishing on the Gulf Coast. These fish migrate into the bait rich waters of Mobile Bay and can be caught around any kind of structure, but the most exciting way is to locate them under floating debris. It's not very often they turn down a big shrimp when it's presented to them.
September-December:
As the days get cooler and the water temperatures drop, speckled trout start their transition period and migrate from the open waters of Mobile Bay to the many deeper river systems they will call home for the winter. This consists of all of the river systems on the north end of Mobile Bay which are: Spanish River, Tensaw River, Mobile River, Blakely River, and Raft River. It's these rivers that I spend a majority of my time fishing and the fishing is fantastic this time of year. A majority of the speckled trout are taken on artificial lures mostly soft plastics fished on a jig head. These fish are feeding and getting ready for the winter. A litter farther south, Magnolia River, Fish River, and Bon Secour River are all very productive.
---
Fish We Target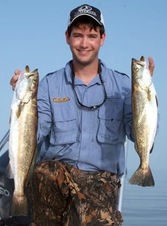 Speckled Trout fishing in Mobile Bay is as good as it gets. Speckled trout are the most sought after fish along the Mobile Bay shores. They can be caught in numerous ways such as a live shrimp under a popping cork or free lining a shrimp letting it swim naturally. The most rewarding and exciting speckled trout fishing is throwing topwater and if you're wading the shallows of Mobile Bay that is just icing on the cake.

---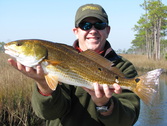 Redfishing in Mobile Bay and it's surrounding waters can be blast from catching slot reds around structure to catching "Bull Reds" on Dixey Bar (Fort Morgan) at the mouth of Mobile Bay. Redfish can handle most conditions mother nature can throw at them unlike the Speckled Trout that inhabit Mobile Bay that require salinity and warmer waters. The most exciting way to catch them would have to be topwater and sightcasting them in skinny water.

---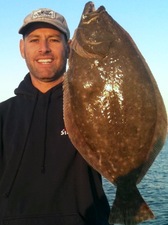 Flounder fishing in Alabama's inshore waters can be very productive using live finger mullet and artificials such as a lead-head jigs with soft scented plastics to intice the flounder to eat. They will be very abundant on and around structure and drop offs on the eastern shore of Mobile Bay and its surrounding waters such as Dauphin Island in the late summer and early fall. Flounder fishing takes some patience but it's a blast when you feel that "thump" up the rod and into your body of the flounder smashing it's prey.

---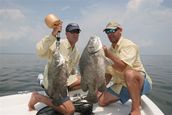 Triple Tail, also known as Blackfish, are migratory fish and can be caught in the Mobile Bay area from May through September. A very exciting and acrobatic fish to catch, you can usually find them around channel markers, pilings, tide lines, and any floating debris. My favorite way to target this cool fish is to locate one or several on floating debris and pitch a live bait such as a big shrimp and hold on.

---